Here at Verve, we love 'pioneer producers' that spearhead good winemaking in unexpected places. For far too long, Northern California was synonymous with boisterous Cabs and 'buttery' Chards, leaving its potential for elegant and sustainably produced wines relatively untapped. Winemakers like Michael Cruse took notice and began cultivating new varieties with minimal intervention, creating high-quality, environmentally friendly juice that would forever change the state's wine scene.
A native Northern Californian, Michael Cruse was always passionate for his home region. Cruse took his first cellar position at Sutter Home, followed by Carneros-based Merryvale Vineyards, where he eventually became assistant winemaker. As of 2008, Cruse, alongside a few friends, constructed a custom crush facility in Petaluma and launched Ultramarine, a sparkling-wine exclusive project focused on traditional method bubbles.
"[Ultramarine] started because I wanted to do something that other people weren't doing," says Cruse. "I realized it was another way to interpret site that people weren't doing. It was another way to experiment with different vineyards in California."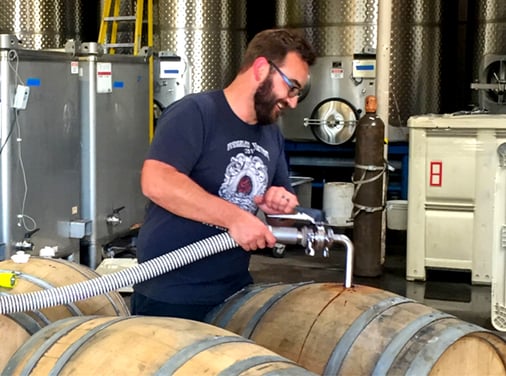 Michael Cruse making some magic 📸: Polaner Selections
A few years later, Cruse set up his namesake domaine, Cruse Wine Co., with the purpose of creating fruit-forward, terroir-driven wines that could easily be consumed now or laid down to withstand the test of time. Today, Cruse mainly works with sites across the North Coast and focuses on 'alternative varieties' over the region's traditional grapes. He vinifies Valdiguie, Tannat, Carignan, and St. Laurent, as well as smatterings of Syrah, Chardonnay, and Pinot Noir.
Above all, Cruse lets the land speak for itself. "It's always site first," he explains. "If the vineyard is excellent, from there, we look to what variety we think would best express that site." Cruse's Flagship cuvée, Monkey Jacket, is a red blend of the of the former four varieties, marked by zesty acidity and poppy fruit-forwardness. Insanely food-friendly and chuggable, it's wines like these that are reshaping the way both industry and consumers view bottles of California red.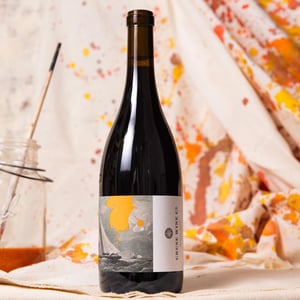 Cruse's Monkey Jacket 📸: Verve Wine
Sparkling wine continues to captivate Cruse's heart-- and his relentless efforts to produce various styles in the Golden State are our benefit. For Cruse, bubbles provide a unique insight into a specific vineyard and place, bringing a true sense of terroir to the table. "I think Champagne has been the most influential region to me," he reveals. "One of the reasons why is because it's a region that is now trying to rediscover its terroir, and I think that that's very similar to California." Cruse uses both traditional and ancestrale methods to create fun, complex bottles that have garnered quite a serious following.
But at the end of the day, producing good wine is what matters most. "The first and most important thing about a wine is that it tastes good," says Cruse. "The next part is that it speaks to a place. The reason you're paying more than 5 dollars for a beverages is because it has pedigree to it, and that it speaks to that pedigree is extremely important. Then, technique is important, so long as it supports the pedigree." He cites Selosse and Savart as his biggest Champagne inspirations, as well as California-based Bedrock Wine Co., David Hirsch, Hardy Wallace (Dirty & Rowdy), and Rajat Parr (Sandhi & Domaine de la Côte.)
Wine shop experiences are also important. For Cruse, a great wine shop does more than sell good wine. "To me, a good wine shop is a place that is open to the needs of its consumers and is willing to help them stretch into whatever their interest is," he says. I'm a consumer and a producer, so a place that is knowledgeable about their wines, reasonable about their prices, and there to help me expand is great-- as well as one that sells a lot of Monkey Jacket!!"
From field blends to single-vineyards, vinified in both still and sparkling styles, Michael Cruse is truly doing it all and we are so excited to support the strides he's making in Northern California.