Surviving family gatherings often requires serious amounts of booze-- and Thanksgiving Day celebrations are no exception. And with a holiday so centered around food, making sure said booze can carry you throughout the day is essential. When it comes to getting through Thanksgiving, sipping on Champagne is an absolute must. Aside from the fact that it's downright delicious, here are five solid reasons why you absolutely need a stash of thirst-quenching bubbles to get you through this Thanksgiving Day.
Champagne Is the Ideal Aperitif Wine
It's true. Sipping bubbles before a big meal is actually a great way to prepare your stomach for the copious amounts of food to come. The naturally high acidity found in Champagne stimulates the taste buds on your palate, causing your mouth to salivate. This salivation gets your appetite revved up and ready to go for the big dinner that awaits. Turkey, anyone?
Read More: How to Properly Open a Bottle of Sparkling Wine (Video)
It's Festive AF
Is there anything more celebratory than the sound of a Champagne bottle popping? We think not. Here at Verve Wine, we believe that Champagne is absolutely appropriate for everyday consumption; however, there's something undeniably special that comes with ringing in a family gathering with something sparkling.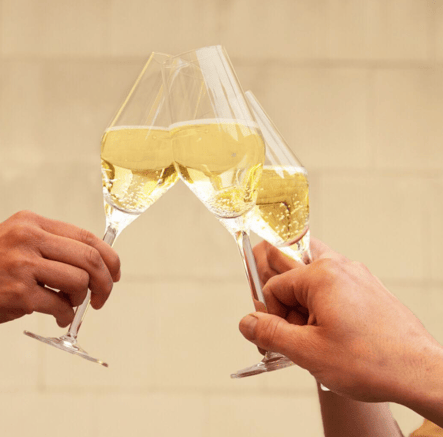 📸: Verve Wine
Champagne Is the Ultimate Crowd-Pleaser
As if Thanksgiving Day doesn't come with enough stress, finding the perfect pour for every family member's glass is nearly impossible; here's where Champagne comes in. The wine's delicate bubbles, crisp mouthfeel, and thirst-quenching nature make it a winner for nearly every palate preference out there. If you're going to press your luck on one bottle to please the masses, Champagne is your best bet.
It Pairs Perfectly with Everything on the Table
Having a selection of versatile wines on the table is key-- and no bottle is more adaptable than Champagne. The wine's high acidity, soft texture, and fruit-forwardness make it a no-brainer for pairing with an array of foods. Whether hors d'oeuvres, turkey, or dessert is on the table, you can count on a glass of Champagne to complete that perfect pairing.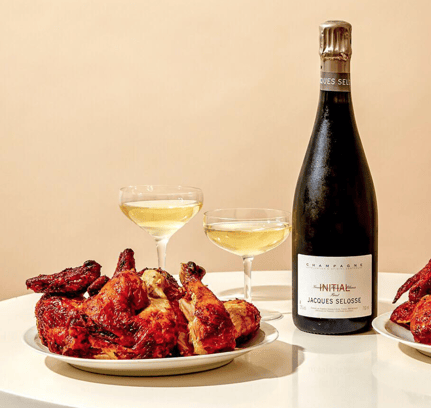 📸: Jessica Marx for Verve Wine
Read More: Alternative Wine Pairings for Your Thanksgiving Day Table
You Deserve It
You've cooked, you've cleaned, and you've basically done all that you can to assure that Thanksgiving Day goes smoothly. Cheers to you! You deserve to celebrate yourself, and nothing screams 'self-care' more than a glass of top-quality Champs. You've earned it!
From our Verve Family to yours, we wish you a very Happy Thanksgiving!